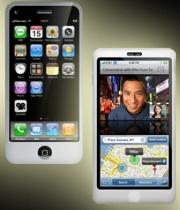 Apple's much touted iPhone 4 is soon arriving in India . Airtel is launching the smartphone for the Indian market. The company is reported to bring iPhone 4 in the September-October timeframe may be by diwali.
"We are working with Apple. Hopefully, we will launch it in the September-October timeframe," Bharti Airtel CEO Sanjay Kapoor told reporters on the sidelines of a CII industry conference.
Earlier, Vodafone had said that it would bring the iPhone 4 to India. However, it did not mention any timeframe .
Bharti Airtel already sells iPhone 3GS in India priced at Rs 35,500 for the 16 GB model and Rs 41,500 for the 32GB model.
With the launch of third generation mobile services in the country by the end of this year, the sale of such high end devices are likely to get a boost.
US-based Apple Inc, the inventor of iPods, iPhones and iPads, had last month announced the launch of the iPhone 4 with a sharper screen and video-chat features in an attempt to ward-off competition from devices running Google's Android software.